About

Rick Mack Enterprises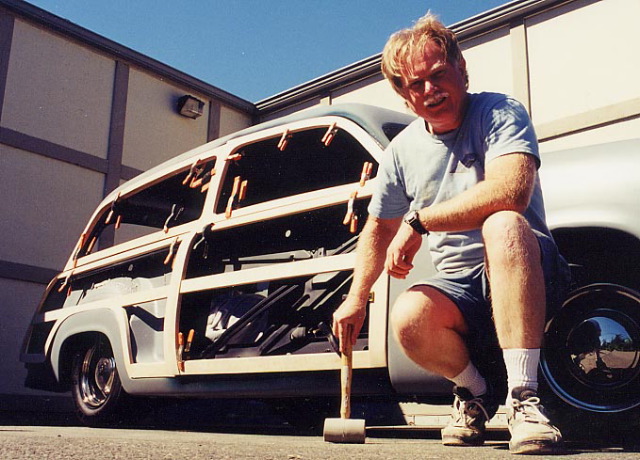 My mission here at Rick Mack Enterprises is to produce the very finest new wood for 1949 through 1951 Ford and Mercury station wagons, 'Woodies' as most people know them today. This is a task that began many years ago for me, in 1962 to be exact. Since that time, I have studied and learned every aspect of the work involved in restoring, and replacing the original wood pieces used on these fine automobiles. All of my work has been done with the purpose carefully duplicating the individual wood parts, and the entire wood bodies, exactly the same as Ford Motor Company produced them decades ago. It has been a long, and at times, quite difficult, but personally rewarding journey for me. I am very proud of my work, there is no finer wood available today for these particular cars.
I offer complete, fully-assembled new wood sets as well as finely machined individual parts for the 1949 to 1951 models. I offer, like Ford offered, a choice of maple or birch wood. My assembled wood sets are made slightly over-size to facilitate a successful final fit of each unit to the customer's individual car. No cutting, routering, gluing, or further machining is necessary, only careful sanding on a few pieces is needed to complete the fitting process. Once all the units are successfully fitted, the holes for the wood-attaching 'blind-nuts' will also need to be marked and drilled. Final 'finish' sanding, and thorough varnishing readies the wood for installation.
Along with the new framing wood units, I offer new mahogany wood paneling in both ribbon-grain, and flat-cut grain. My paneling is pre-pressed into the needed curved shapes to easily fit into the wood frames. The paneling comes sanded to 180 grit and is ready for the application of stain or varnish without further sanding or preparation of any kind. Easy, but it does take some care and time to complete. After varnishing, these panels will need to be installed into the wood frames with screws.
On request, I will also produce wood units from figured woods such as: 'curly' maple, 'birdseye' maple, and 'flame' birch, or any wood of a customer's choosing, but these are 'special' orders, and will require additional costs. Some custom touches are also available. Please call me weekdays from 9:00 am to 5:30 pm Westcoast time at my shop to discuss your needs: 253-539-0432. My shop is in Tacoma, Washington. In addition, call for current prices and 'lead-time' information. I do have a small brochure that I would be happy to mail to you. Thank you for your interest in my wood work!
RICK MACK ENTERPRISES
PO BOX 39631 LAKEWOOD, WA 98496